Although a little behind the 8-ball, animated .gif banners still are an effective way to advertise on the Internet. The following are banners I designed for GlobalTestMarket, an online survey website that pays you to take online surveys...



'Inkblot':

Banner advertisements are all about catching the eye of a viewer. With that in mind I thought the transitioning between inkblots was a great way to add some intrigue and gain some traffic to the GlobalTestMarket.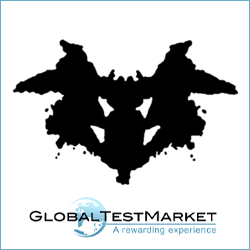 'Voice your opinion':

Although GlobalTestMarket pays you to take online surveys, it's not all about the money. This banner was created to capture the audience that wasn't in it for the dough, but instead out to have their voice heard.


'Eye Exam':

Another method to get the attention of web traffic, this time in the form of a scrambled eye exam, that soon becomes unscrambled.


'We all like rewards':

These 2 banners take a different path, playing with the fact that surveys are for everyone, and everyone likes getting rewarded. The dog in the image, upon bringing the newspaper, will most likely receive a treat, or at the least, a nice pat on the head.


'All about U':

A spin off of the above eye exam banner, but this time the eye exam is an easy one: Everything is a U. This was 'U'sed to help illustrate that online surveys are easy.


'Earn cash':

Tried to incorporate some real people in photographs, with a main message of earning cash.


'Vacancy':

The idea behind this banner was to portray a Vacancy sign at a motel, to help reiterate that there is still an opportunity to earn money taking online surveys.



If any of the banners aren't rotating properly, refresh the page, or click on the image (and refresh).